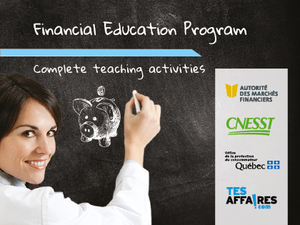 The Office de la protection du consommateur has worked in partnership with the Autorité des marchés financiers and the Commission des normes, de l'équité, de la santé et de la sécurité du travail to develop teaching activities that complement the secondary school Financial Education program. This material is intended to build on the program's primary competency: Takes a position on a financial issue.
Teachers can choose from activities that propose a variety of learning situations that are adapted to the reality of young people and focus on developing this competency and its components: Assesses the situation, Examines different options, Considers the legal aspects of each option and Puts his/her position in perspective.
The Office activities
Consult the Office's activities that specifically target the following financial issue: Consuming Goods and Services.
Note: If you are a teacher of the Financial Education program for Adult General Education, please see the adapted version of the activities (in French only).
Additional information
Go to the Office de la protection du consommateur's Teacher Zone to access more activities and teaching material that will help you cover consumer issues in your classroom.
Would you like to invite a representative of the Office to your school to discuss consumer issues? Our agents are available to talk about cell phone contracts, credit, advertising and many other topics. Contact us.
Other activities
Also consult the activities offered by the Office's partners:
Last update : August 31, 2023
Was the information on this page useful to you?
The information contained on this page is presented in simple terms to make it easier to understand. It does not replace the texts of the laws and regulations.